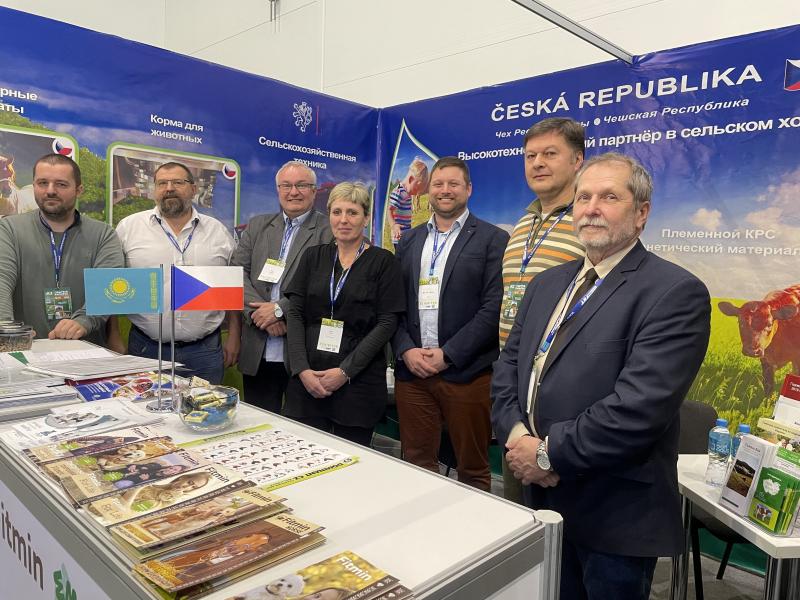 At a time when the agro-industrial complex of Kazakhstan is undergoing qualitative and quantitative changes, one of the important criteria that can predetermine the further course of its development is the selection, adaptation and implementation of modern and efficient technologies.
Today the developed Agricultural Complex of the Czech Republic can offer a wide range of high-tech equipment for agricultural purposes, biological assets of high quality, seeds of various crops, plant protection products and much more. Czech companies have a reputation of reliable partners and suppliers of quality products, technologies and services.
Livestock
Special attention should be paid to companies engaged in livestock breeding. The key to the success of Czech livestock breeders was building such an effective system that combines selection and breeding work, development of feed and use of innovative industrial production technology. Czech breeders have done a great job in achieving a high level of milk and meat production of excellent quality cattle (Simmental and Holstein breeds).
Poultry breeders have achieved great success. Thus, the sale of hatching broiler eggs and original Czech breeding egg programs take one of the main positions in the structure of exports of biological assets. Equipment for barns, pigsties, poultry houses and technologies for animal production are used in many parts of the world.
The most modern equipment produced in the Czech Republic reduces labour costs, improves the regularity and quality of animal care and the animal environment and contributes to a higher and more long-term productivity and profitability in cattle, pig, sheep, goat, poultry or fish production.
Prerequisites for a sound production include the necessary level of herd management, excellent quality of animal care, an appropriate measure of animal comfort, a modern level of selection, top quality housing for young animals and a specialized provision of quality feed in balanced feed rations.
Czech companies also offer a wide range of breeding technological complexes, equipment and supplements for intensive aquaculture, especially for closed recirculation systems. All this is the subject of narrow specialization of Czech companies in the field of animal breeding
You can get more information about various Czech agricultural products and services by contacting the Trade and Economic Department of the Embassy of the Czech Republic in Kazakhstan, e-mail: commerce_nur-sultan@embassy.mzv.cz or directly to the Agricultural Expert, e-mail: Artom_Lukasov@mzv.cz (Artem Lukashov). You might also be interested to learn about measures of state support for Czech exporters aimed at establishment of partnership relations with Kazakhstani agricultural producers.
World of NAN will share what Czech producers who participated in AgriTek/FarmTek exhibition, organized by the Ministry of Agriculture of the Czech Republic and the Embassy of the Czech Republic in Kazakhstan, have to offer to livestock breeders.
Czech horse feed
It should be noted that the production of animal feed in the Czech Republic has deep roots. Traditions and original recipes of ancestors are carefully preserved there and handed over to next generations. The world brand Dibaq, which produces food under the Fitmin brand, can also be considered the successor of the family business.
Today DIBAQ is a leading Eastern European company developing original formulas and producing extruded, pelleted feed and feed additives for horses of industrial and sport breeding. The geography of export supplies is wide - products are purchased by more than 50 countries all over the world - all Europe, countries of Central Asia, Far and Middle East. There are supplies to Mongolia, Russia and Belarus. The company's average annual volume is already more than 30 million euros. Subsidiaries are engaged in fodder production in Poland and Slovakia.
"The company's products are enriched with a special complex of biologically active substances, which play an important role in maintaining the overall health of the horse. They are aimed at strengthening the immune system, the adjustment of the digestive system. Certain supplements are aimed at relieving the symptoms of aging. There is even a series for wound healing, restoring cleansing of the respiratory system. The whole line of products helps to prolong the horse's full life," said Alexander Gotra, export manager for the company. He also added that 20 years experience of cooperation with the American Kentucky Equine Research Institute helps to achieve high results.
In addition to selling finished feed, the company offers farmers software that calculates a horse's daily ration based on the information provided, depending on its condition, breed, age and breeding goals.
"Until now, we have only worked with sport horses. However, given the traditions of horse breeding in Kazakhstan, we are ready to offer our years of experience and knowledge of horse physiology to local farmers. That is, any Kazakh farmer can give us data on how a horse feeds, the results of chemical tests on the content of proteins and micronutrients in the body, and get the optimal diet to achieve their goals. Whether it's intensive fattening, increasing milk yields or preparing for sporting events. Specialists will advise what kind of feed or premixes to include in the ration," says Alexander Gotra.
The company has an official distributor in Kazakhstan, represented by Vet-Arteka, Almaty. Since the start of the year, one batch of the product has been supplied to the markets of Kazakhstan, the second batch is on the way - 20 tons of feed and treats for Kazakhstan horses.
A Kazakhstani enterprise using Czech technology?
Another big fodder producer in Eastern Europe is the company Mikrop Cebin. It has its own production of forage and fodder additives for farm animals. The main distinction of the company's activity is a constant research and development work to improve the composition of products. For this purpose, the plant has its own scientific and technical laboratory. Specialists work in close cooperation with Czech and foreign institutes of fodder production.
The company is focused on long-term partnership. Therefore, it is important for the management not just to sell, but also to "accompany" the farm. For this purpose, the company has introduced services of full analysis and subsequent drawing up of feeding rations for animals.
In the Kazakhstani market, Mikrop Cebin's partner is the "Good Look" Taraz Trading House. The plant produces certified feed mixtures for cattle, poultry, chickens and pigs on the basis of premixes made by the Czech company. Now the possibility of creating a joint Czech-Kazakh production is being considered to enter the common market of the Central Asian states.
"Kazakhstan has a huge potential for the development of livestock farming and export of products in this area. We want to help unlock the existing potential. Agribusiness is booming, but farmers do not always have enough knowledge and experience. Unfortunately, many of them buy pedigree cattle, super-powerful equipment for the farm, but save money on fodder. Then they are surprised that there is no milk yield or weight gain. We are ready to eliminate these shortcomings and support farmers," said Jiří Pytliček, company representative.
Seed and cattle in demand
Seed material from the Czech Republic is in great demand among Kazakh farmers, as well as highly productive cattle breeds. ISB Genetic s.r.o. company is one of the Czech leaders in the field of genetics, breeding, artificial insemination, sale of seed material and livestock trade due to its many years of experience and team of specialists. At the exhibition, farmers from Kazakhstan showed great interest in the mating program, when a specialist of the company selects bulls to improve the breed qualities of the herd, and the CowManager, a modern herd management technology.
According to Jan Jelinek, Director of ISB Genetic, the most demanded direction in the 30 years of the company's existence remains trade of Simmental, Holstein and Angus cattle. For several years, the company has supplied cattle to Hungary, Slovakia, Turkey, Greece, Algeria, Russia, and Serbia. There are supplies to Uzbekistan and Kyrgyzstan. Last year, more than a thousand cattle were delivered to Kazakhstan.
The work of ISB Genetic on CIS markets is assisted by ZIMATECHNIK, s.r.o. According to Petr Švajda, commercial director of the firm, breeds imported by the Czech company are very popular among Kazakh farmers.
"Today ISB Genetic together with its partner in Kazakhstan, the company BKN, has established full veterinary support. That is, the company supplies cattle, makes up an insemination plan, and develops nutritional rations. More recently, Kazakh specialists have been trained in insemination and are ready to provide services in this area. In just 10 years, more than 6,000 heads of pedigree cattle from the Czech Republic have been brought into Kazakhstan," said P. Shvayda.
Kazakh farmers in Czech cooperative
This is what the breeding cooperative CHD Impuls aims to breed Czech spotted cattle or "Flekvi" - Czech selection Simmental. Marek Bjelka, director of the cooperative personally came to Kazakhstan to look for new partner members.
Created in 2001, the cooperative began with only six farms.
To date, the cooperative consists of 103 farms. The cooperative has its own breeding station with 46 thousand cows in the system of milk yield control and animal evaluation, 60 bulls-producers. Its services include insemination, breeding services, preparation of mating plans and improving productivity in breeding the flequish breed. By gaining a foothold in the "genetic" market, the cooperative actively promotes and popularizes the flequish cattle internationally.
"Several projects have already been implemented in Turkey. In Africa, Zambia, we built a breeding station. In Moldova we conducted courses on artificial insemination techniques. In Ukraine and Slovakia we have cooperative partners. In Kazakhstan through the company CRI Kazakhstan we sell our products. Now we will be glad to see Kazakh farmers among the members", says Marek Bjelka.