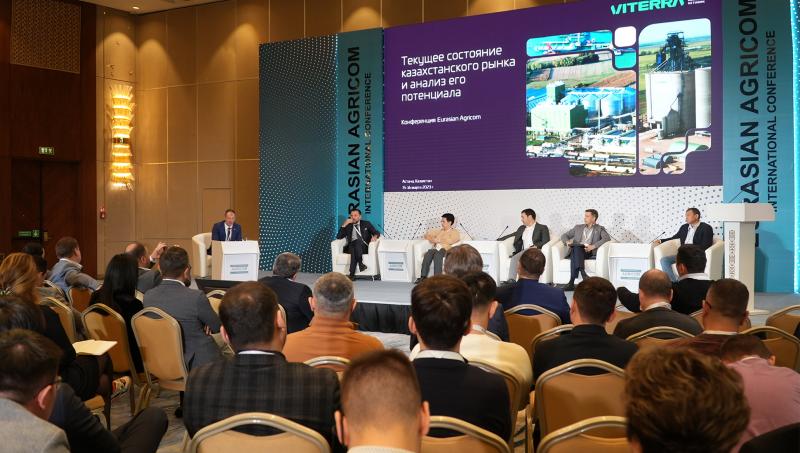 Global market trends, Kazakhstan's position and the export situation were discussed by experts and agricultural producers at the spring session of the EURASIAN AGRICOM international conference, World of NAN reports.
General Director of Viterra Kazakhstan LLP Sergey Potapov shared his forecasts for grain exports, including a special focus on the country's potential for the export of barley.
According to the speaker, the general dynamics of exports and stocks corresponds to the season before last. Whereas the last season was atypical, the low harvest had its effect.
The expert estimated the export potential at 1.2 million tons. He estimates that in the first half of the season, shipments were quite active. More than half of it - 630 thousand - has been exported. Now all that remains is to ship out the rest, which, according to the speaker, will be very difficult.
" If we are to meet the balance, we need to ship about half a million tons, which is not quite realistic now, given the current market conditions, prices and the level of demand from traditional barley importers. The first half of the season saw a very good rate of exports. But the second half will remain very questionable. Since 80% of traditional exports go to Iran, which has big problems with payments, there are arrears. And so far it is not clear when the situation will be resolved, "- said S. Potapov, speaking at the conference.
The speaker clarified that there's a little movement now, but it's hard to predict the situation.
"To reach the level of 1.2 million tons, we now need to ship about 100 thousand tons every month, which to me seems unrealistic," - the expert shared his doubts.
He is convinced that Kazakhstan's exports in this situation direly needs state support. In turn, S. Potapov suggested a possible way out of the situation.
"I think, for example, we can talk about insurance deferred payment for Iranian buyers, to involve Kazakhexport, which already has similar tools for other kinds of goods, but they do not apply to grain. In light of the visit of our President to Iran and the visit of the Iranian delegation to us, such a step would be right and worth considering," the analyst said.
China, according to the speaker, would also be a trump card in getting out of the situation, maintaining domestic barley prices, and increasing the rate of exports.
"On the demand side, China has been ready for a long time. Last year we were actively shipping, selling a lot to China, in containers. There were subsidies, it all accounted well. Now, unfortunately, about 60-70 dollars we are standing on the sidelines, not only in terms of margins, but also at the level of production costs," said S. Potapov.
According to experts, only the intervention of the relevant authorities can somehow "resolve" the situation, otherwise barley exports will be at risk of disruption.