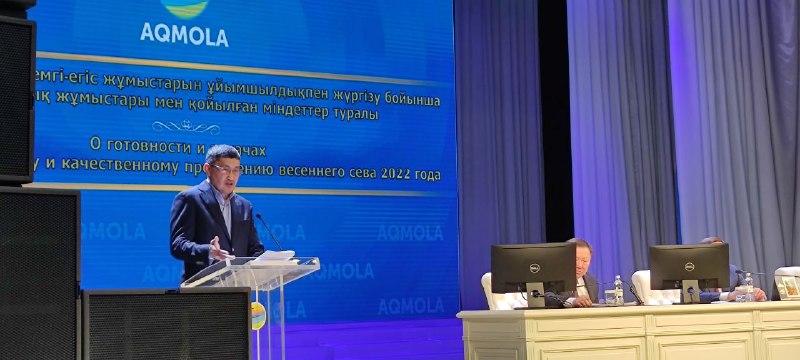 The founder of En-Dala LLP Timur Pshenov explained why they do not use the services of KazAgroFinance and Prodkorporatsiya. He also shared his vision of the development of agriculture, reports World of NAN.
The LLP was founded in 1996 as a peasant farm. The business started with 40 hectares of arable land, one tractor and one combine. Only three people worked on the staff. Over the years, the enterprise has become modern and is dynamically developing in four rural districts. There are 300 people employed, and thanks to cattle breeding there is year round occupancy. The size of the crop area has reached 50 thousand hectares, the number of livestock for today is 3000 heads. As for economic indicators, in 2020 the output of gross production reached 7 billion tenge, and in 2021 - 5 billion, a decrease occurred because of the drought.
"We are financed through second-tier banks. We work under the programs "Ken-Dala", "Agribusiness", "Economy of Simple Things". We practically do not use the services of KazAgroFinance and ProdCorporation. We believe that their financial products are expensive, and the price of our products is undervalued in autumn", - Timur Pshenov shared his opinion.
Let us note that the farmer has worked in the industry for 27 years. Therefore, such an assessment of state enterprises, which are supposed to help farmers, can be called quite justified. Because the farming community to this day asks to create an agrarian bank and constantly criticizes the prices of the ProdCorporation.
But the farmer didn't stop there. He drew attention to the topic of agricultural industry development. In his opinion, for optimal development of the agricultural sector, it is necessary to have 25-30 thousand hectares of arable land and no less than 10 thousand hectares of pastures.
"We began to develop livestock 14 years ago. Today we have 3000 heads of cattle. And in order to keep them, we need 30,000 hectares of pastures. Less than that will lead to a reduction in the number of cattle," the farmer said.
He went on to talk about taxation and business responsibility. According to the farmer, the tax system is considerably disproportionate. Some pay 600 tenge per hectare, some pay 6 thousand, some pay 15 thousand.
"I think it is necessary to introduce a unified agricultural tax - it is a fixed rate on taxes based on the calculation. It would be easier for tax authorities. They will have a fixed forecast of tax revenues. Plus, a single agricultural tax will be able to cut off inefficient businesses, "- added Timur Pshenov.
Besides, according to the farmer, it is necessary to introduce standard agricultural practices, developed in Europe. These standards imply crop rotation, obligatory cutting of perennial grasses, obligatory cattle breeding and use of resource- and energy-saving technologies.