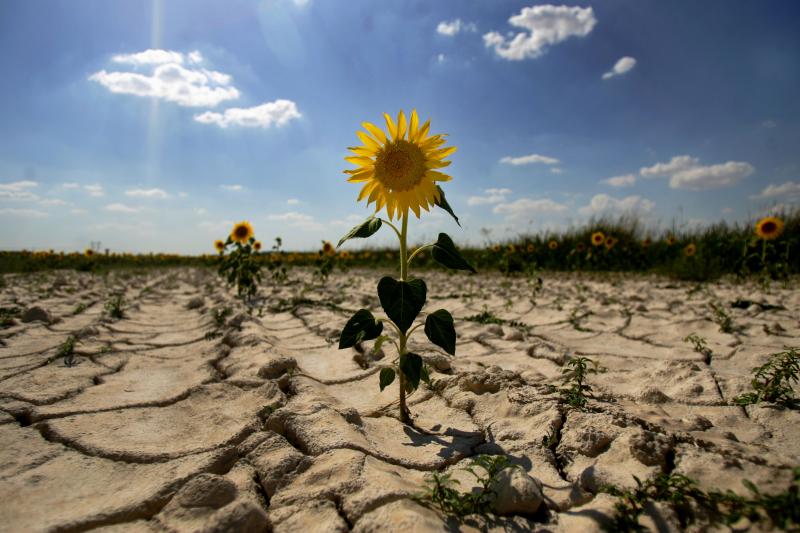 Kazakhstani farmers are currently experiencing a lot of difficulties because of the drought. Is it possible to save their crops? How will the drought affect the productivity of crops? A scientist from the Zarechnoye experimental farm answered these and other questions in an interview with World of NAN.
FORECAST FOR JULY
In June, Kazhydromet had already predicted insufficient moisture in most parts of Kazakhstan. These forecasts were proved to be true, with high temperatures observed in some regions. In July the situation will not change dramatically, and according to Kazhydromet some Kazakh farmers will also experience difficulties from the drought.
Thus, according to the agency in July, extremely dry conditions are expected in some points of the Aktobe region (Nura, Irgiz), Kostanai (Karamendy, Amangeldy), Atyrau (Kulsary), and in Mangistau region (Akkuduk).
Severely dry conditions are predicted in Akmola region, more precisely in the cities of Esil, Atbasar and the village of Zhaksy. In Aktobe region the following districts will be affected: Novorossiysk, Karabutak, Baskuduk, Nura, Irgiz. In the Kostanai region the drought will affect the villages Presnogorkovka, Arshalinsky, Tobol, Aralkol, Torgay, In the North Kazakhstan region - Tayynshy and Mangistau region - Sam.
Moderately dry conditions are forecasted by hydrometeorological service in Akmola (Balkashino), Aktobe (Komsomolskoe, Temir), Kostanai (Mikhailovka, Karasu, Zhitikara, Kushmurun, Dievskaya, Zheleznodorozhnyi), North Kazakhstan (Yavlenka, Sergeevka and Ruzaevka), East Kazakhstan (Leninogorsk), Zhambyl (Kordai), Almaty (Aul 4), Kyzylorda (Kazaly) and Atyrau regions (Atyrau).
However, the drought will bypass some regions, because due to past heavy rainfall in the last decade of June, moderately wet conditions are predicted in the villages Zhalpaktal, Dzhanybek, Urda West Kazakhstan region, in the village Bakty VKR, and in Beyneu Mangistau region. In the rest of the territory according to the hydrometeorological service moisture conditions are expected to be close to normal. Also in the northeastern half of the country, normal precipitation is expected.
WHAT DOES THE EXPERT SAY?
The head of the selection department from the experimental farm "Zarechnoe" Sidorik Ivan predicts that the drought will have a negative impact on all crops.
"Here, for example, I have flax, sunflower, rapeseed and soybeans growing. Sunflower and flax are more resistant to drought, but they are still weakened. Practically all crops suffer. Usually 2-3 irrigations per season are enough, but this year so far, we had to do 4 irrigations. In general, the drought this year will adversely affect the yield of most crops, "- said Ivan Viktorovich.
According to the expert, the least affected will be vegetables and fruits, which are on a permanent irrigation. However, given the lack of water, drought and rising cost of irrigation water, we can not say that the farmers of this industry have an easy time. In addition, there are few farms in Kazakhstan that have fully switched to drip irrigation. And during high temperatures, vegetable crops require a lot of water.
"Who has no irrigation, potatoes will not be grown this year. I have a farm next door, where they water potatoes abundantly, and they bloom beautifully," the expert added.
The only salvation for farmers will be abundant watering. Large farms can afford it, but what about small farmers? They should only rely on rain!
"Reducing the effects of drought is problematic. Our limiting factor is moisture, and our drought is not soil drought, but atmospheric drought. Now even fertilizers will work effectively. I personally fed the fields with nitrogen fertilizers and microfertilizers, they seemed to produce some effect, but farmers will not do it. It is very expensive," Ivan Sidorik emphasizes.
According to him, there is a scientific approach to preserving crops during droughts - the treatment with fungicides, which will prevent the impact of diseases on plants, and subsequently will affect the yield. The expert also added that during drought it is necessary to remove weeds from the fields in time. Another way for the farmers of the northern region Ivan Viktorovich called late sowing.
According to his information, moisture for sustainable development of cereals is needed during tillering and entering the tube - this is the first period, the second period is earing.
"We found that the early crops benefit if it rains in June. However, in the northern regions, according to statistics, there is less rain in June than in July and August. Therefore, farmers who sow in late May or early June have a better chance of capturing rainfall in the right period," explained the head of the Selection Department.