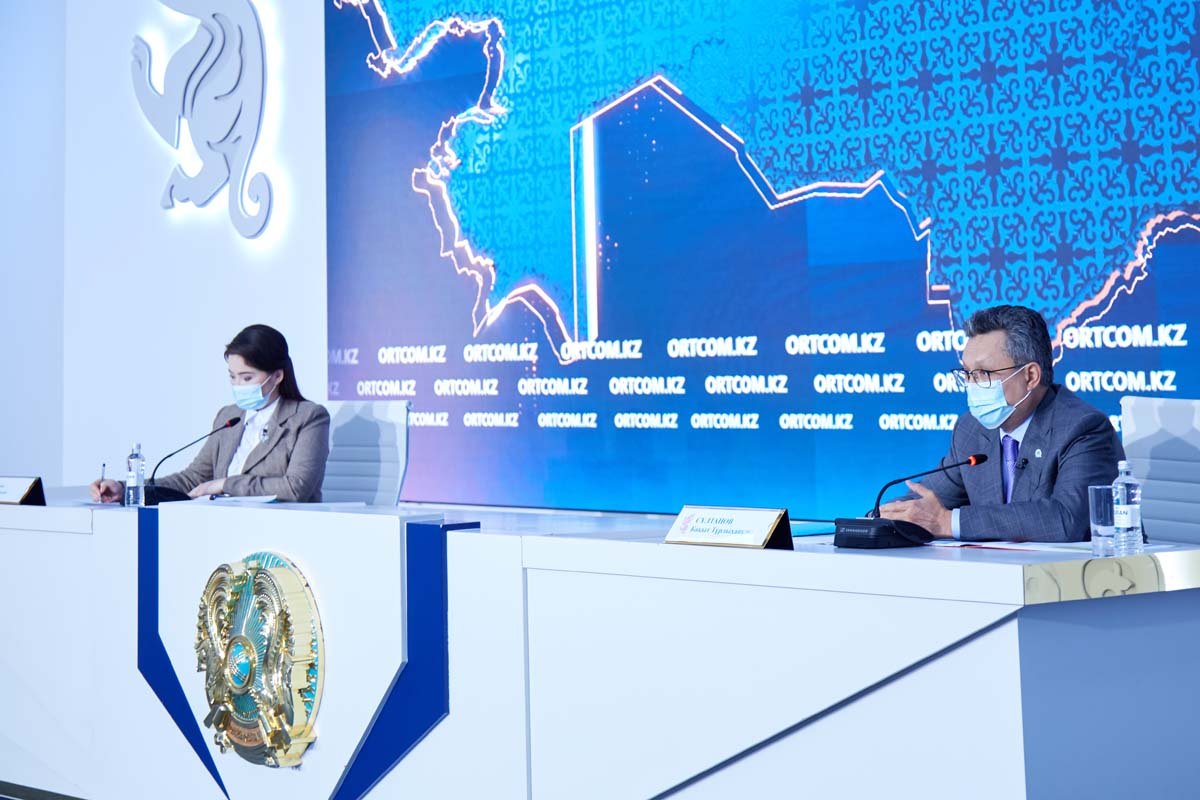 This figure was voiced by Minister of Trade and Integration of Kazakhstan Bakhyt Sultanov at a briefing at the Central Communications Service, dedicated to the results of the department, World of NAN reports with reference to the press service of the ministry.
In his speech, the Minister also noted that exports to Uzbekistan and Tajikistan increased in 2020, while imports from these countries, on the contrary, decreased. According to B. Sultanov, exports to Uzbekistan grew by 6.9% to $2.1 billion and to Tajikistan by 6.1% to $693 million.
"The trade turnover between Kazakhstan and Uzbekistan in January-April 2021 amounted to $1.2 billion, which is 41.3% higher than in the same period of the previous year ($0.8 billion). Exports from Kazakhstan to Uzbekistan in January-April 2021 grew by 54% to $899.2 million. Overall, in 2020 trade turnover between Kazakhstan and Central Asian countries amounted to $4.6 billion," the minister said.
As for Tajikistan, trade turnover between this country and Kazakhstan in the current year amounted to $335.9 million, which is 17.2% higher than during the same period last year ($ 286.5 million). The most imported goods are fruits, berries, vegetables: these are apricots, cherries, cherries, peaches, plums and thorns; grapes; bread and flour confectionery products; tomatoes; onions, garlic; mineral and carbonated water. The highest imports into Kazakhstan come from Uzbekistan. In 2020, it was $783.1 million.
To recall, during the working trip of Kazakh delegation to Uzbekistan and Tajikistan in June this year, Kazakh businessmen signed 6 contracts worth $3 mln on pilot supplies of various products. For example, contracts for $ 500 thousand for the purchase of Uzbek cherries, on the supply of fruits and vegetables from Gafurov district of Sughd region to Kazakhstani retail chains. Then B. Sultanov immediately responded to all the critics of imports through social networks.
"We are now actively developing vegetable growing and gardening. But the volumes produced are not enough for consumption. In addition, we need to ensure that the market is filled with vegetables and fruits from early spring until the ripening of our own crop - this can be done at the expense of imports. And finally, our vegetables-fruits have a "shorter conveyor shoulder" to Russia than from Tajikistan and Uzbekistan," the minister wrote.
During the talks, they also discussed the issues of laying trade routes/corridors.
"In order to test the regional goods pipeline system, an agro-train-autocaravan will be formed. A very important point we discussed is the organization of proper packaging," said Bakhyt Sultanov. According to the minister, the first deliveries are planned to be made by the end of July this year.
Смотрите больше интересных агроновостей Казахстана на нашем канале telegram, узнавайте о важных событиях в facebook и подписывайтесь на youtube канал и instagram.