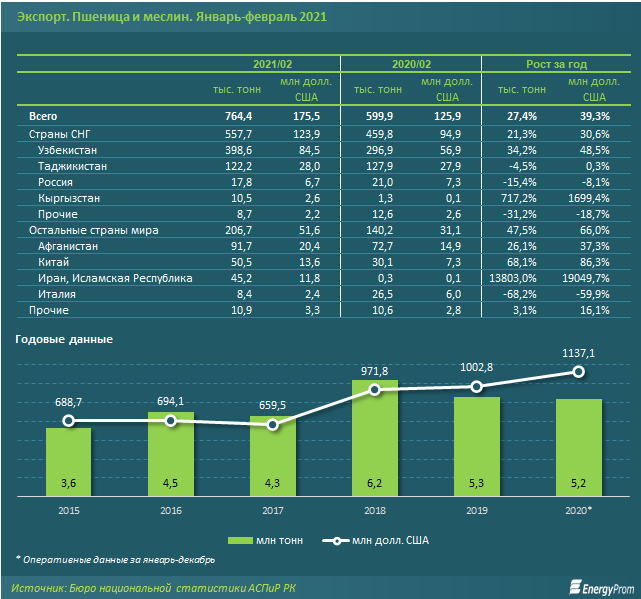 In January-February this year, the country's companies exported 764.4 thousand tons of wheat and meslin - 27.4% more than a year earlier. In monetary terms, exports reached $175.5 million, an increase of 39.3% over the year, World of NAN reports, citing the analytical portal Energyprom.
According to the portal, most of the export went to CIS countries: 557.7 thousand tons. The main importer of Kazakh wheat was Uzbekistan: 71.5% of Kazakhstan's total exports to the CIS countries. For the two months Uzbekistan imported 398.6 thousand tons of wheat worth $84.5 million. UZBEKISTAN EXPORTED $84.5M OF WHEAT FOR TWO MONTHS.
Kazakhstan delivered 206.7 thousand tons of wheat to non-CIS countries - 47.5% more than a year before. The main importers were Afghanistan, China and Iran.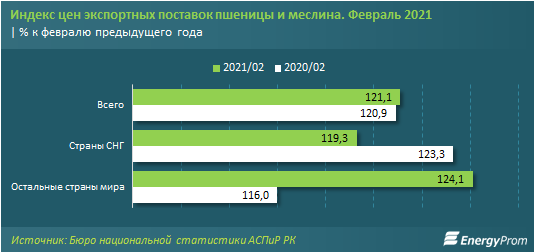 Overall, in January-December 2020, the country supplied to foreign markets 5.2 million tons of wheat for $1.1 billion. The annual decrease in export volumes in physical terms was 3.3%; while in monetary terms there was a growth of 13.4%.
Wheat export prices for February 2021 were up 21.1% for the year and 0.6% for the month. Prices for the CIS countries increased by 19.3% in annual terms, while prices for the rest of the world increased by 24.1%.
In January-December 2020, wheat prices rose 23.5% over the same period a year earlier. The CIS countries experienced an increase of 22.8%, while the rest of the world registered an increase of 25.4%.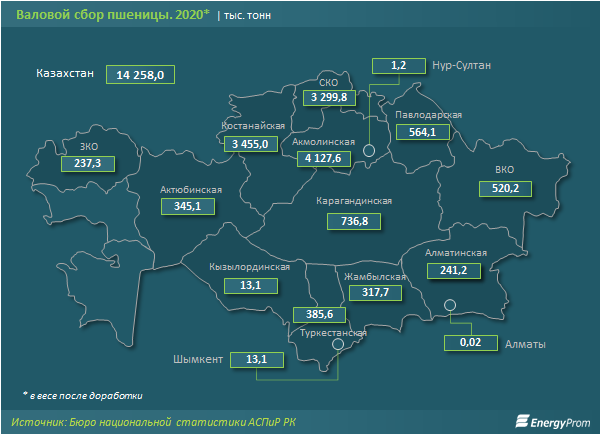 At the end of 2020, the gross harvest of wheat was 14.3 million tons - 24.5% more than a year earlier. Akmola region harvested the most crops: 4.1 million tons, plus 25.3%. Kostanay and North Kazakhstan regions were also in the top three.
Yields rose from 10.1 centner to 11.8 centner per hectare during the year. At the same time, in 2018, the yield was 12.3 centners per hectare.
To recall, the mass sowing in the main grain-growing regions this year will start in mid-May. According to the information of regional Akimats, to date 2.4 million tons of seeds filled up, which amounts to 100.4% of the plan. In addition, 136.2 thousand tons of mineral fertilizers were delivered to agrarians.
Смотрите больше интересных агроновостей Казахстана на нашем канале telegram, узнавайте о важных событиях в facebook и подписывайтесь на youtube канал и instagram.