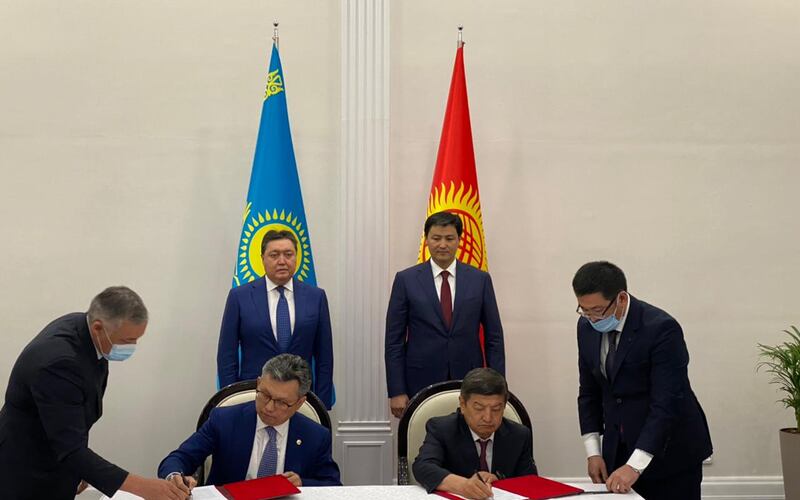 An agreement on creation of new industrial and logistic hubs at the border was reached as a result of mutual visits of heads of states and a meeting of the Kazakh-Kyrgyz Intergovernmental Council, held in early April this year. The respective document was signed today by Bakhyt Sultanov, Minister of Trade and Integration of the Republic of Kazakhstan, and the Deputy Chairman of the Cabinet of Ministers, Minister of Economy and Finance of the Kyrgyz Republic, World of NAN reports citing the press service of the Ministry of Trade.
The centers of cross-border cooperation are seen as a new growth point for increasing mutual trade and bilateral projects in the real sector of the two countries' economies. According to the Ministry of Trade and Commerce, the centers will create the most favorable conditions to attract local and foreign businesses, the development of joint production by providing preferences to investors.
At the first stage, the Kazakh side is considering the territory of checkpoints located between the Zhambyl region of Kazakhstan and the Chu region of Kyrgyzstan. At the same time, the Kazakh side has the opportunity to expand the proposed territory defined for the industrial and logistics complex. Thus, it is planned to improve the operation of the existing Karasu border crossing point, modernize the adjacent infrastructure and include the Center in the regional commodity distribution networks. The project is also included in the scope of the international economic corridor "Almaty-Bishkek".
Priorities in the activities of industrial centers will be production cooperation, the creation of new industries and jobs; increasing the production of consumer goods with a high competitive advantage, including food and agricultural products; improving logistics and infrastructure; attracting new technologies; diversification of agricultural production. It is also expected to create conditions for the implementation of interaction between government agencies, local authorities and subjects of agricultural production on the basis of public-private partnerships; creation of joint ventures for the production of consumer goods with the introduction of new technologies.
Experts expect that the work of joint Kazakh-Kyrgyz industrial trade and logistics complexes will make it possible to implement cost-effective export-oriented projects and increase the competitiveness of certain sectors of the economy, including through the use of advanced production and sales management technologies. Creation of ITLC will give an opportunity to place production lines in an economically attractive region with significant volumes of raw materials and developed infrastructure. And generally expand the market shares of the countries in the global markets.
Inclusion of ITLC in the regional distribution networks will ensure the conclusion of direct contracts for the supply of raw materials and sales of finished products while reducing the cost of finished products. The development of unified standards on the technology of pre-sale preparation and sale of goods, as well as the establishment of partnerships and cooperation with traders and various international organizations will also contribute to increasing exports of agricultural products of the two countries.
Смотрите больше интересных агроновостей Казахстана на нашем канале telegram, узнавайте о важных событиях в facebook и подписывайтесь на youtube канал и instagram.