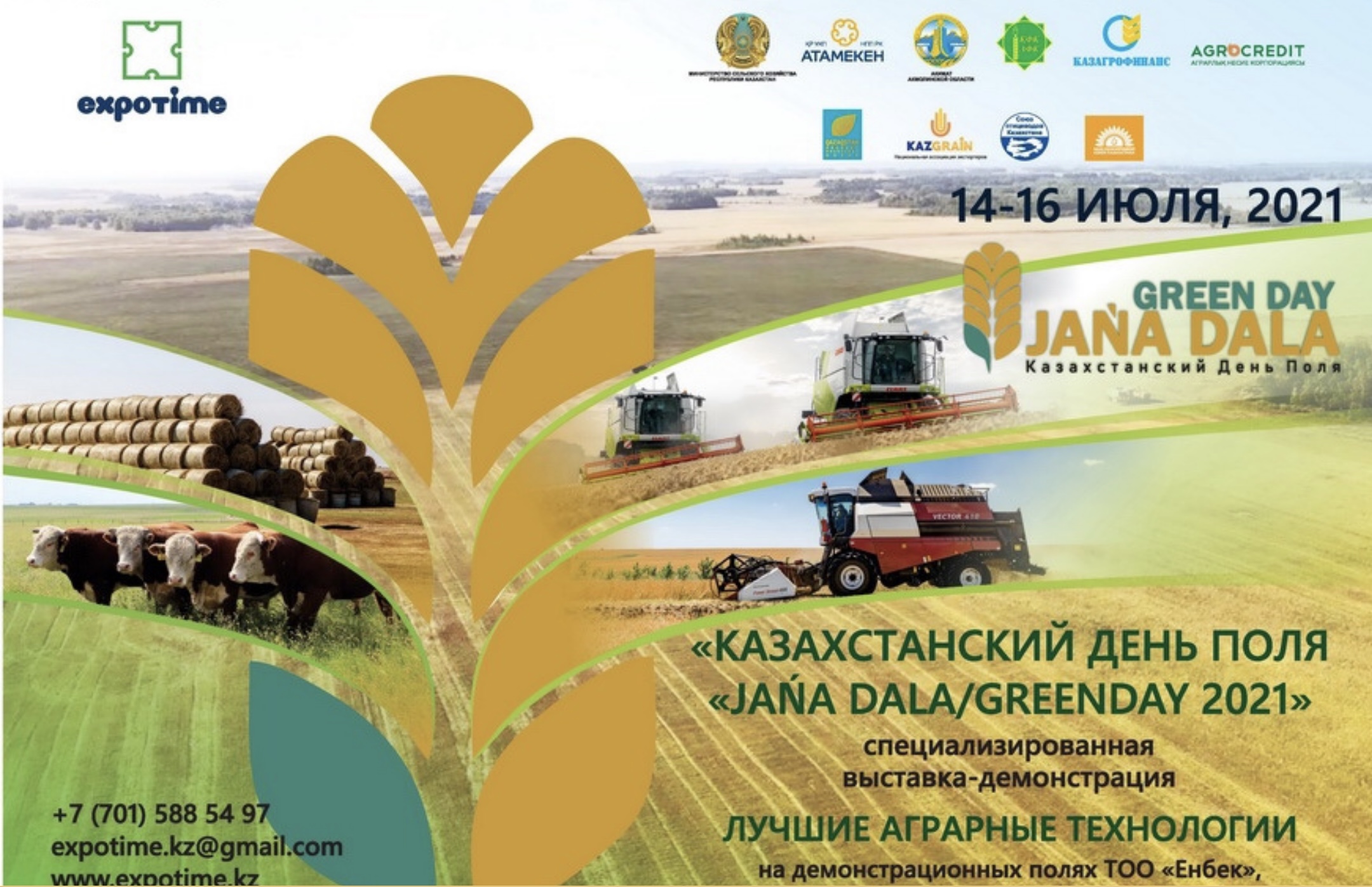 EXPO TIME invites you to attend the specialized exhibition-demonstration Kazakhstan Field Day "Jańa Dala/GreenDay 2021" to be held on July 14-16, 2021 (90 km on the highway from Nur-Sultan) on the demonstration fields of "Enbek" LLP, Akkol District, Akmola Region.
"The Kazakhstani Field Day "Jańa Dala/GreenDay 2021" will be an effective platform to demonstrate advanced practices in agribusiness, exchange experiences and develop business contacts between local and foreign agrarians. The event is planned to be held in Akkol region, as this region is a driving force of agrarian industry of Kazakhstan in crop, livestock and organic production. New technologies are used here, there is a growth in production, marked by a high level of product quality. Products are consumed not only in Kazakhstan, but also supplied to the EU countries. They love their land and are an example for many agrarians in our country.
Within the framework of the Jańa Dala/GreenDay 2021 there will be seminars, round-table discussions and master classes where participants will be able to discuss topical agricultural problems and the ways of their solution.
The format of the annual exhibition "Jańa Dala/GreenDay 2021" will traditionally gather a large number of manufacturers in one place. Each farmer will be able to compare, and most importantly - to find the right element for their technology, to confirm the choice not only by company specialists, but also by independent experts, representatives of research institutes and colleagues.
The event was supported by the following organizations: the Ministry of Agriculture of the Republic of Kazakhstan, NCE RK "Atameken", Akimat of Akmola region, ROO "Association of Farmers of Kazakhstan", JSC "Kazagrofinance", JSC "Agrarian Credit Corporation", ALE "National Association of Exporters "KazGrain", ALE "Poultry Union of Kazakhstan", Union of organic producers "Qazaqstan Organic Producer Union", ALE" Association "Oil and Fat Union of Kazakhstan", etc.
Смотрите больше интересных агроновостей Казахстана на нашем канале telegram, узнавайте о важных событиях в facebook и подписывайтесь на youtube канал и instagram.