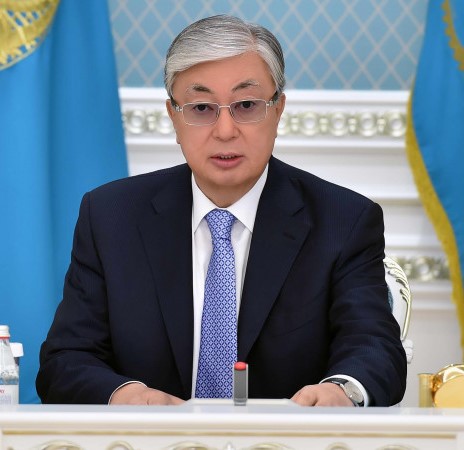 Kazakh President Kassym-Jomart Tokayev during the virtual international forum said that Kazakhstan is ready to make efforts aimed at strengthening the global food security.
"The Head of State reaffirmed our country's commitment to work on strengthening the global food security, settlement of international conflicts and peacebuilding," the press service of Akorda reported after the high-level event "Financing development in the era of COVID-19 and beyond.
At the forum, Kassym-Jomart Tokayev chaired a group of landlocked developing countries (LLDCs). The Head of State drew the attention of the world community to the fact that "the pandemic has jeopardized the development of all countries, with LLDCs being among the most affected by a reduction in external financing, trade and investment.
In this context, the Kazakh leader called for the consolidation of international efforts in addressing the growing external debt of developing countries, "digital divide", ensuring access to clean drinking water, green and modern agricultural technologies.
The press service also reported that the virtual forum was initiated by UN Secretary-General Antonio Guterres, Prime Ministers of Canada and Jamaica Justin Trudeau and Andrew Holness. The forum was also attended by leaders of Germany, France, South Africa, Japan, Italy, Great Britain, Pakistan, Kyrgyzstan, Belarus, Saudi Arabia and other states, heads of IMF, OECD, World Bank and several other international financial institutions.
It should be noted that recently, in times of the COVID-19 pandemic and the concomitant economic crisis, experts and government officials are talking about opportunities for powerful development of the agricultural sector in Kazakhstan.
In particular, at a recent government meeting, Prime Minister Askar Mamin said that Kazakhstan has the opportunity to become one of the world's food hubs. He instructed to develop a new concept for a comprehensive program of agro-industrial complex development, taking into account the specifics of the agricultural sector in each region.
In turn, the manager of MFC "Astana" Kairat Kelimbetov shared his opinion that Kazakhstan and Russia can become the largest suppliers of food to the world.
Despite the huge potential, the share of agro-industrial complex in GDP of Kazakhstan does not exceed 5%. What is currently preventing Kazakhstan from becoming an agricultural power, the experts said.
Source: www.akorda.kz
Смотрите больше интересных агроновостей Казахстана на нашем канале telegram, узнавайте о важных событиях в facebook и подписывайтесь на youtube канал и instagram.