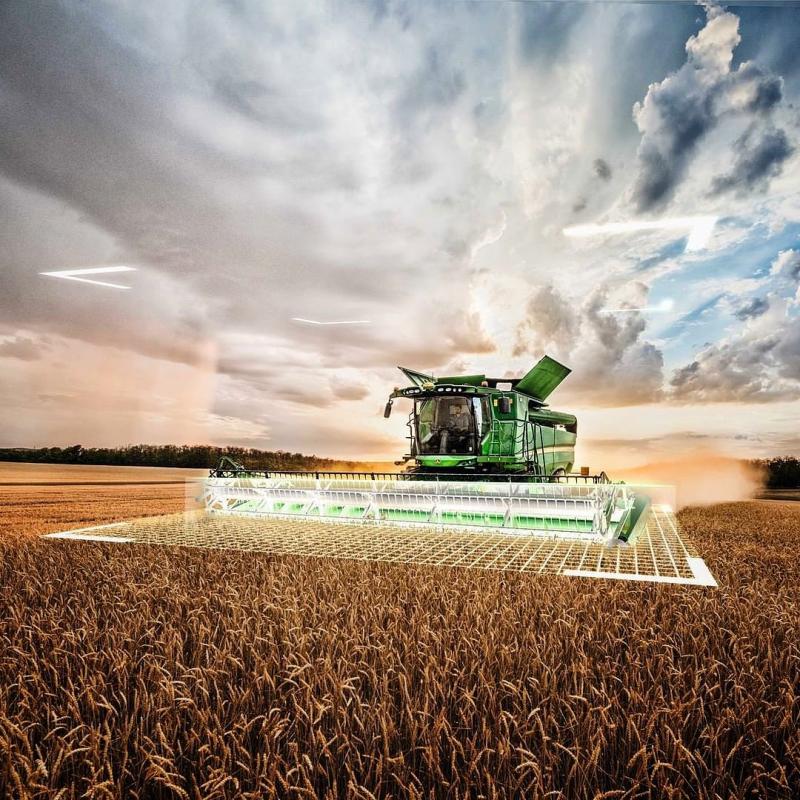 Competition in agriculture is growing worldwide. Farmers are choosing high-quality machinery and equipment to increase yields, improve farm efficiency. And even such important agro-technical activities as seeding, field treatment, fertilizer application and much more are trusted to "smart technologies". Today we will do a short review of digital solutions that not only save time and money, but also significantly reduce dependence on manual labor.
"The challenges in agriculture have been increasing over the years. It's climate change - droughts, floods, rising global temperatures, carbon dioxide levels. Add to that increased labor costs, high production costs. And one of the ways to solve these problems can be the digitalization of agriculture, which combines precision and intelligent farming," says Arman Shamshitov, an agronomist with international experience, talking about the benefits of digital tools.
According to the expert, after the green revolution in plant breeding and genetics, now agriculture is on the threshold of the second green revolution, which is taking over the agricultural world based on the combined application of information and communication technology solutions, such as smart machinery, the Internet of Things (IoT), sensors and actuators, geographic positioning systems, drones, robotics and more.
"For example, the system of automatic machine guidance on the line allows you to carry out field work - plowing, cultivation, sowing, fertilizing, harvesting with maximum accuracy and minimum cost overlapping and uncultivated areas. Also an important advantage is the possibility to process the field at night with the same efficiency and accuracy as during the day", - says our interlocutor.
Among the benefits of using differential fertilization we can mention saving of fertilizers, increasing of crop yields, decreasing of environmental pressure on the soil, increasing of harvest quality, preservation and increase of soil fertility, and no less important reduction of fuel consumption. When used in conjunction with soil sample data, aerial photos, and yield monitoring, differential application technologies are extremely effective in maximizing the effect. And the savings from differential application are on average about 30%.
Digital solutions to simplify the work of the agronomist
As Mr. Shamshitov noted, digital tools allow agronomists to remotely monitor the state of crops in the fields. Although they cannot fully replace humans, they can help agronomists identify and diagnose problems as they arise. In this case, it's impossible not to note the benefit of the John Deere Operations Center. It's an online farm management system that provides access to farm information anywhere, anytime. The tools in the Operations Center allow farmers to analyze, edit and make better decisions based on the information they receive to improve yields and lower costs. This can include maps of seeding, tillage, yields, etc.
One more unique technology is Taranis Ag - the leading platform of high-precision agricultural intelligence, which with the help of own patented technology with artificial intelligence allows effective monitoring of agricultural lands during the growing season. Unique leaf-level monitoring includes seedling counts, weed species, diseases and insect pests.
Artificial intelligence for the work in the field
"First, digitalization is a market requirement, a trend of the times. Secondly, the transition to digital management reduces the risk of theft in the organization, as total control over all the parameters of material value eliminates this possibility. Also, digital solutions allow the rational use of available resources in the field, bringing tangible budget savings," says another of our interlocutors Egor Sukhanov, service specialist for integration solutions.
For example, the JDLink telematics system makes it easier for the farmer to control a range of operations and allows him to see the technical indicators of the machines - online, in real time, or post factum, and to analyze such data as fuel consumption over a certain period, operating time and efficiency of machinery, including idle time, AutoTrac operating time, use of Efficiency Manager, critical slippage and others. Analysis of error codes " received" from equipment is useful for prompt response in order to monitor the appropriate use of equipment by operators and prevent serious costly breakdowns and downtime of equipment during the season.
E. Sukhanov told about other no less interesting technologies.
For example, AutoTrac system, which is popular among domestic farmers, enables to fully automate machine control in the field. Artificial intelligence excludes human involvement. The operator doesn't even touch the steering wheel of the machine. The program itself chooses the right and optimal trajectory, eliminating the human factor. With RDA, another innovative technology, service specialists can help the operator to perform all the necessary machine settings and calibrations without having to travel to the field. In case of a breakdown, the machine can also be diagnosed remotely via Service Advisor, thereby saving time and money.
All agronomic operations in the field are recorded in the MyJohnDeere Operations Center, from sowing to harvesting. Every farmer in his personal MyJohnDeere office has access to important historical data remotely transmitted by his innovative machinery from the fields.
"All of the above solutions make it possible to analyze and efficiently use the John Deere fleet of equipment, thereby increasing the income of Kazakh farmers," says Egor Sukhanov.
Autonomous weather stations are the future.
Modern agriculture often requires accurate weather forecasts and up-to-date environmental analysis in order to produce successful monitoring results. Weather data can be obtained from free Internet services, but their accuracy will be low and insufficient for planning production processes. Farmers can avoid such a situation by using iMetos autonomous weather stations. They are used to collect, record and display the information needed to control plant growth conditions and production processes. It is a complete solution for environmental monitoring, disease simulation, soil moisture and much more. The weather station has a modular structure with a wide range of sensors that measure and accumulate data, which are then sent to the FieldClimate cloud storage service, which is available completely free of charge via mobile app or browser. Accordingly, this weather station helps receive hourly data on climate readings, accurate weather forecast for 3,7,14 days, warning farmers about possible abrupt changes in weather phenomena, the appearance of pests and diseases on agricultural land, giving accurate forecast data to make informed decisions, on which the future harvest often depends.