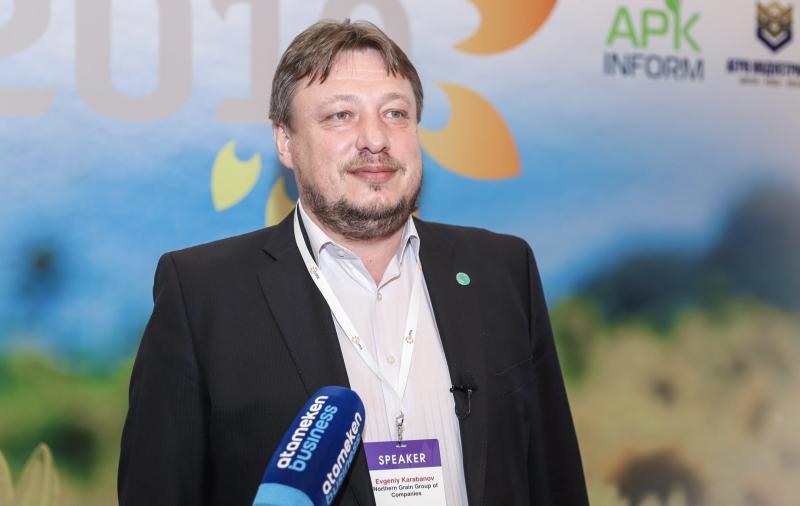 China's restrictions on the import of export goods, including Kazakh grain, caused another wave of discontent. Having suffered huge losses for five months of downtime, when the Chinese authorities did not accept the wagons with cargo, exporters are once again forced to return the goods and calculate the losses. Why did the situation repeat itself despite the interstate agreements and how did China's refusal to accept our grain affect wheat prices and export volumes? How to act with regards to our neighbor in order to finally protect the exporters' interests? World of NAN agricultural portal addressed these questions to the official representative of the Grain Union of Kazakhstan Y. Karabanov.
Yevgeniy Aleksandrovich, how did stopping of cargo reception in the direction of China influence wheat prices? What is the price level at which it is kept now?
- Let's start with the fact that China has never been a major importer of Kazakh wheat and grain. China imported the maximum amount of Kazakh wheat in the 2017/18 season, 501,000 tons, and only 292,000 tons in the 2019/20 season. In 2020/21, 321 thousand tons. Therefore, Chinese restrictions, by and large, do not play a key role in shaping wheat prices. As for barley, China is also not the main consumer of Kazakh product, so the situation will not affect the prices. About 70% of barley is still accounted for by Iran. Now the price of food wheat of the 3rd class is holding around 120 thousand tenge per ton, and a ton of barley is trading for 100 thousand tenge including VAT.
Why has the situation with restrictions happened again?
Because once we kept quiet, we "swallowed it," as they say. And the second time, why not? We were slapped on the right cheek, and we turned the left cheek, as the Bible says. That's how we will be treated as long as we turn the other cheek and tolerate it. The reason why our wagons are not accepted is obvious - China needs transit through our country with a good flow along the Silk Road route, China-Western Europe. And our wagons are clogging up that transit. " Bottlenecks" at the Chinese border stations of Alashankou and Khargos, where cargo handling, container relocation, unloading and reloading of railcars takes place. There are no terminals on our side. All the shifting infrastructure is on the Chinese side. That's also our big oversight. We didn't create the infrastructure. The Chinese did. Now the country has tightened quarantine requirements, additional disinfection is required. This dramatically lengthens processing time for railcars, containers, etc. As a result, Chinese transit suffers. And they don't need it. "Corona" is just an excuse for them. Our state refers to the Decree of the authorities of the Xinjiang Uygur Autonomous Region on quarantine. Imagine, if the Akim of Almaty region had issued a similar decree not to let Chinese cargoes through, I imagine it would not have been in effect for long...
What measures are needed to resolve the situation?
We need to remember the principle of reciprocity. We also need to drastically limit "their" flow. China does not dare to do that to Russia. Because the Russian authorities will not tolerate it. Russia is ready to shoot itself not just in the foot but in the head for the sake of retribution, which it has been demonstrating to the whole world for the last 7 years. And China knows this. And with us they can, we are "tolerant". We can't do anything in response. As soon as the shippers and forwarders voice a question about countermeasures, KTZh officials start clamoring, saying, if we impose restrictions, the Chinese will "leave" for Russia. They won't go anywhere. Russia is not waiting for them. There are bottlenecks there, too. The issue must be resolved not in Urumqi, but in Beijing. Our ambassador is there. What does he do? Where are the Foreign Ministry's letters? Why aren't they getting involved? There are a lot of questions, but we have not seen any action. We haven't seen any action for five months, when the wagons were standing still. Only endless zoom conferences. The problem must be solved at the level of public policy, not at the KTZh level.
Evgeny Alexandrovich, has the problem been raised at the government level?
The Grain Union of Kazakhstan in November, December of the last year, when the cars were idle, applied to the Cabinet of Ministers, Prime Minister's Office, Ministry of Agriculture, Atameken NCE, Ministry of Foreign Affairs. Nothing was solved, they returned the wagons and fixed the losses. This is also a very interesting approach. So, KTZh Cargo Transportation has its own benefit - the Chinese pay for transit, while KTZh Express, a subsidiary of KTZh, the owner of fitting platforms with containers on them, also benefits, it has income from the provision of these platforms. It turns out that the two entities make money, while all our exporters are in a bad place. Therefore, it's important for our government to decide what is more important - to support business, developing exports or momentary interests, earning current money.
And we are floundering, we don't know what we need. We need to understand another important point - China does not need our imports. The entire world market is at their feet, they will buy everything they need and where they need it, and what quality they need. The cost of our linen in one container is about $20 thousand, while the Chinese container with electronics for car plants is $800 thousand, $1 million. Therefore, our goods are not a priority. A container with electronics means industrial development, foreign exchange earnings, jobs, and growth of the Chinese economy. The Chinese side has clearly set its priorities, and, unlike us, understands what it needs.
How do you rate exports today?
The pace is very slow. If in September exports normally amounted to about 400-500 thousand tons of wheat and flour in grain equivalent, this year, according to our estimates, it was not more than 250-300 thousand tons. In October we used to export about 700-800 thousand tons, now we do not forecast more than 450 thousand tons. We usually perform 50-60% of export volumes before the new year, but this year it is much less. And most likely, the export will be evenly stretched throughout the season.
What were the reasons for the situation, apart from the restrictions from the Chinese side?
The first is the high cost of grain. Our traditional exporters have no more money. Accordingly, they buy the amount they have enough money for. This is one thing, and another is the situation with Afghanistan. Although there are triumphant announcements that Afghanistan began to buy. But they started using crooked schemes - with payments from the UAE, Turkey, Uzbekistan. But these are not the same volumes. Afghanistan was buying more than 40% of grain and flour in grain equivalent of all exports. The country bought 1 million 153 thousand tons of flour last year. And this is 66% of all our flour exports. We also exported 528 thousand tons of wheat there. Total exports to Afghanistan last year, in the grain equivalent amounted to 2.1 million tons (about 30% of the total annual exports of our wheat). Plus Uzbekistan supplied 721,000 tons of flour made from our wheat to Afghanistan in 2020. If you collect everything in grain equivalent, it makes 3.2 million tons, which is 45% of Kazakhstan's wheat and flour exports in grain equivalent. However, due to the reasons mentioned above, this year we forecast reduction of volumes by about half.