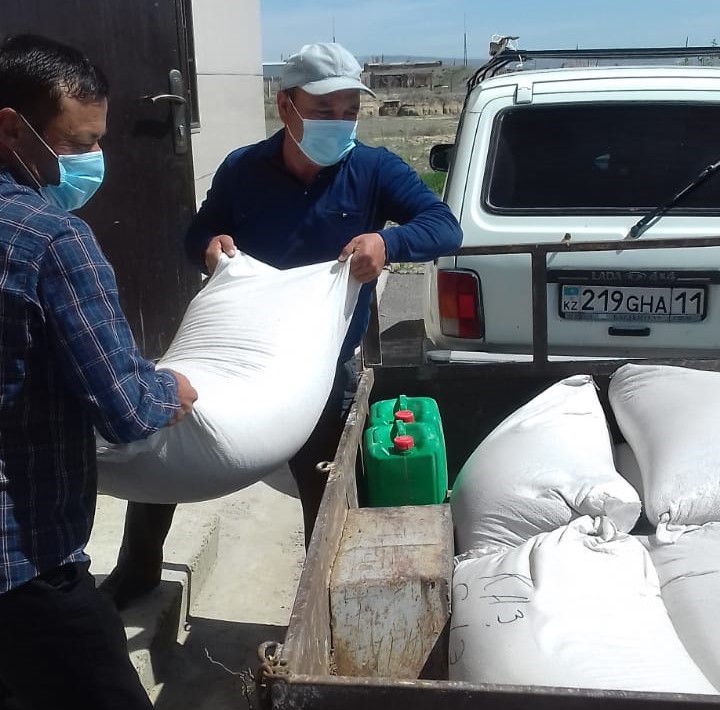 In the midst of the COVID-19 pandemic, farmers around the world face limited access to resources, labor and farmland, resulting in loss of production, lower household incomes and poorer nutrition. FAO/GEF is supporting farmers around the world in times of crisis as much as it can. Another assistance was provided today to the farmers of Kyzylorda region, reports World of NAN, citing the press service of the international organization.
"Farms located in the risky natural areas of the Aral Sea region are particularly vulnerable to shocks in the crisis. And already suffering from droughts, lack of water and salinity, in the conditions of the pandemic the farmers of the southern regions of Kazakhstan faced insurmountable difficulties, lack of financial resources and lack of seeds. The pandemic should not force farmers to the brink of survival, so we continue to provide timely assistance to the rural population of Kazakhstan," said Makhmud Shahumarov, CACILM-2 Project Coordinator.
According to the information from the press service, in order to support farmers, the FAO/GEF project "Integrated Natural Resources Management in Drought-prone and Saline Agricultural Production Landscapes of Central Asia and Turkey" (CACILM-2) purchased four tons of elite wheat "Kazakhstanskaya 10" for farmers. Specialists of the Fund believe that this will allow farmers to avoid declining production in small farms and stabilize the level of food security in the field.
According to FAO experts, the variety of wheat, which was received by local farmers, has a good yield, high drought and salt tolerance, is responsive to irrigation and fertilizers, is practically not affected by diseases and pests and is recommended by breeders for sowing in the southern regions of Kazakhstan.
"It often happens that due to lack of money small farms buy low quality seeds without any supporting documents. Sometimes the price of such seeds of low quality and without a certificate, is half the market price. But in the end this can adversely affect the quality of the future harvest, "- said the head of the Department of Agricultural Complex of the Chamber of Entrepreneurs of Kyzylorda region Zhasulan Serikov at the ceremony of seeds' transfer.
The commission, which included representatives of the local executive bodies and the Atameken NCE, included five farms from Zhanakorgan district and the village of Karaultobe Kyzylorda, which today received 800 kg of high quality wheat seeds each free of charge.
"I myself am an agronomist by training and I know firsthand about the sowing qualities of seeds. We all made sure that the seeds of the "Kazakhstanskaya-10" variety purchased by the project are beyond praise and we are very grateful to FAO for the timely assistance," said Abdugappar Khanseit, head of the "Khanseit" farm, who received the seeds as assistance.
Смотрите больше интересных агроновостей Казахстана на нашем канале telegram, узнавайте о важных событиях в facebook и подписывайтесь на youtube канал и instagram.