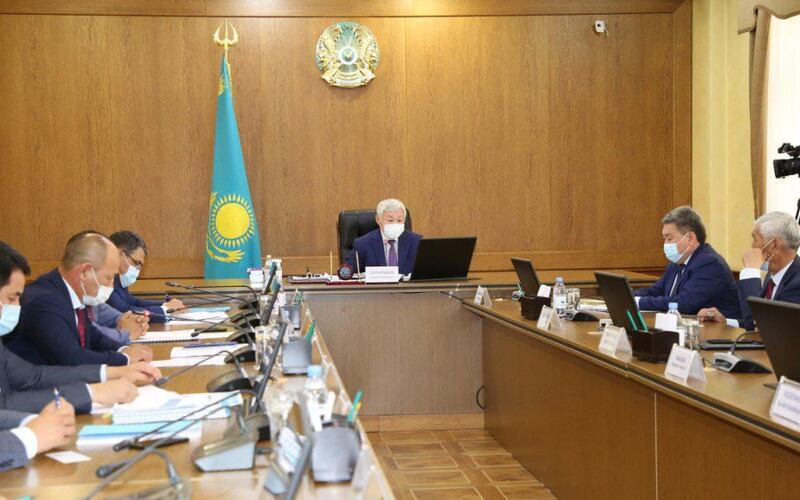 The progress of work on restoration of irrigation systems in the city of Taraz, as well as problems hindering the development of this area were discussed at a meeting chaired by the Akim of Zhambyl Region, Berdibek Saparbayev. This year, 90 million tenge will be allocated for rehabilitation of urban irrigation systems, World of NAN reports, citing the press service of the regional akim.
At the meeting, Head of the Department of Natural Resources and Regulation of Environmental Management Aslan Orazbekov reported that the staff of "Taraz-Irrigation" LLC cleaned a drainage canal 1.4 km long from Baizak Batyr street to Sanyrak Batyr street, 800 m of canal in the Dalnyaya Karasu array and "Karasu-2" canal from Shostakovich street to Tauke Khan street. In addition, 58.2 million tenge was spent on cleaning of canals on Aisha-bibi and Tauke khan streets, 77.6 million tenge - canal "Үshbulak" and drainage canal near the airport. Within the limits of the program "Road map of employment" flumes of irrigation system on 19 city streets were replaced.
A total of eight canals in Taraz, the length of which is 82.55 km. There are also two drainage canals, one hydraulic structure. The length of the irrigation network is 164 km.
"This year 90 million tenge is budgeted for rehabilitation of irrigation systems. This time, the work will be carried out in the area of the sugar factory, on the territory of the ethno-historical complex "Tekturmas", the canal "Үshbulak". Work has already begun on the installation of distribution gateways on all troughs", - said A. Orazbekov.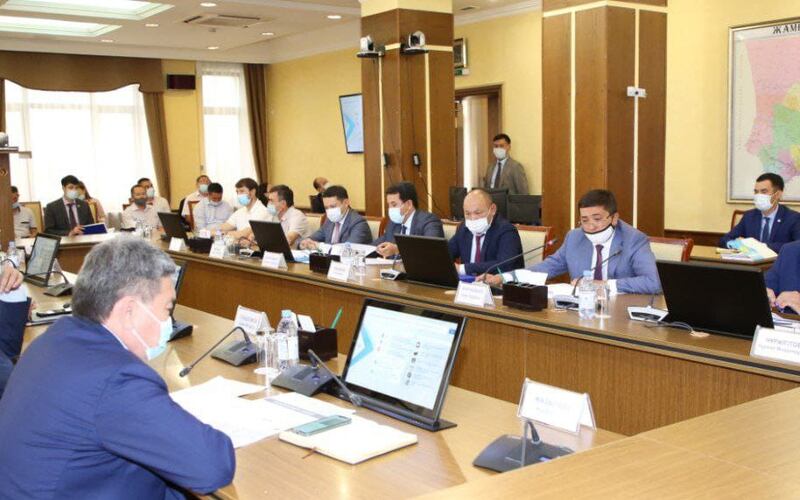 Akim of the city Yerzhan Zhilkibayev added that 89,1 million tenge were allocated from the local budget for carrying out the planned works. LLP "Al-Mansur", which is the contractor, has already completed 55% of the construction and installation works.
"To date, the City Akimat has developed and approved a plan for cleaning canals and rehabilitating trough systems for 2021-2023. Within three years it is planned to replace 38.24 km of irrigation trays and clean six canals," said the akim of Taraz.
During the meeting it was announced that six business objects are located in the protected territory of water canals. With regard to those who illegally occupied the plots of land, measures in accordance with the requirements of the law shall be taken.
The Head of the region ordered to systematize work in this direction.
"Organization of work on cleaning canals, aryks, troughs leaves much to be desired. In summer time, it is especially important that water flows through aryks. Responsible agencies need to control the effectiveness of disbursement of funds allocated for the restoration of irrigation systems. Also, I request to take measures against dishonest businessmen, whose facilities are located in the protected area of water canals, in accordance with the legislation", - instructed Berdibek Saparbayev.
Смотрите больше интересных агроновостей Казахстана на нашем канале telegram, узнавайте о важных событиях в facebook и подписывайтесь на youtube канал и instagram.