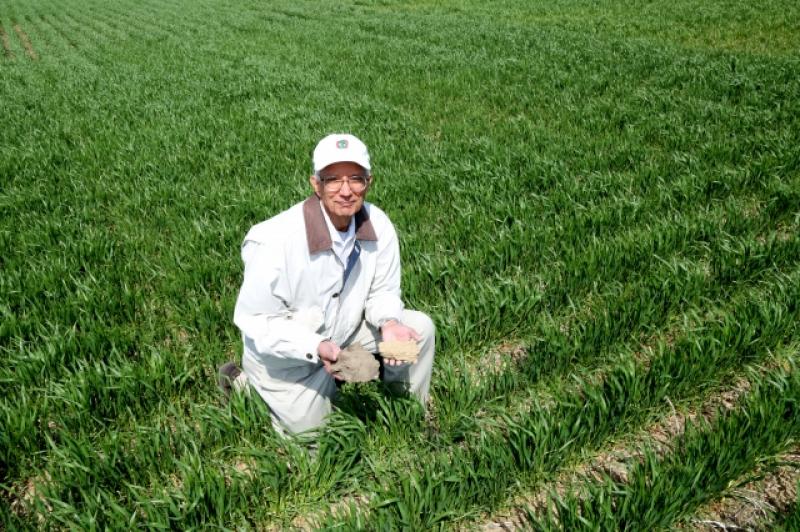 How a pioneer in soil research and conservation agriculture, Dr. Rattan Lal set the stage for one of the key trends in agriculture, was discussed at the United Nations Food and Agriculture Organization (FAO), reports World of NAN.
Dr. Rattan Lal was awarded the Nobel Peace Prize certificate for his contribution to the work of the Intergovernmental Panel on Climate Change (IPCC). He is also a co-recipient of the 2007 Nobel Prize.
Growing up on a small farm in India, Dr. Rattan Lal experienced many of the challenges that small farmers face today. The house his family lived in had no running water or electricity, but, he says, they never worried about it because everyone lived that way.
As an agriculturist, his father had difficulties with irrigation and the associated problems of soil salinity, which Dr. Lal later realized could be overcome by improving land drainage. But it was only after years of research that he began to grasp the fundamental role of soil and share it with the world.
Dr. Lal effectively changed the way we look at sustainable soil management and ushered in a new horizon in what is now known as conservation agriculture (CA), an approach that can play a tremendous role in restoring degraded soil resources worldwide, sequestering carbon and combating food insecurity.
CA involves minimizing the destruction of soil structure (which means minimal tillage), maintaining permanent soil cover, and diversifying crop production, which can increase biodiversity, reduce water use, and improve soil health.
Conservation agriculture plays an important role in FAO's assistance to smallholder farmers in Africa, Asia, Latin America and the Caribbean. The benefits are many, from increased yields and lower input costs for farmers, to improved soil health and increased carbon sequestration. Ever since Dr. Lal came to understand all this, he has been doing his best to promote his method as widely as possible.
Pioneer
In the 1970s, when Dr. Lal was working at the International Institute of Tropical Agriculture (IITA) in Nigeria, he discovered that by foregoing plowing and simply covering the soil with crop residues, he was able to get five tons of corn per hectare every season, while local farmers were only harvesting one ton. But for some reason, they still did not switch to CA.
He attributed it to a lack of confidence in no-till farming. More than forty years later, FAO and other organizations, among them the African Conservation Tillage Network (ACT), are expanding the application of CA methods in Africa with much greater success.
For example, FAO is supporting the adoption of CA by more and more farmers through the project "Conservation and Sustainable Agriculture in Southern Africa: Improving Coordination, Scale-up and Policy Guidance".
As the region is warming at twice the global rate, there is an urgent need to strengthen food systems and bolster the resilience of farmers, many of whom are small-scale or subsistence farmers. With these goals in mind, the project aims to foster collaboration between governments, NGOs and development agencies, meaning that FAO and its partners are better able to document and disseminate knowledge and best practices on RHPs to farmers.
One recent example of such collaboration can be seen in Zimbabwe, where FAO and the NGO Fundamentals of Farming are assisting the government in its ambitious goal of training 1.8 million farmers in CA technologies.
"I see no reason why Africa can't become the breadbasket of the world," says Dr. Lal.
Restoring degraded soil resources
Soils have been neglected for years: monoculture farming and inappropriate use of chemicals have depleted the essential nutrients and microorganisms found in healthy soils. To reverse this trend, Dr. Lal insists that farmers first reproduce soil fertility with organic matter.
"Farmers don't give back what they take away, so soils are degraded.
People are a mirror image of the soil they live on: its condition also affects their health," Dr. Lal says.
Regarding land use, he insists that we have more resources than we need, we just don't use them properly.
"To aim to produce more and more while wasting more and more resources is a crime against nature. The ideal strategy is to produce more with less: less land, less water, less fertilizer, less pesticide, with less greenhouse gas emissions and less unproductive use of resources," Dr. Lal believes.
Acknowledging that soil and CA alone do not reduce greenhouse gas emissions, he notes that "carbon recovery in soils and trees appears to be the most obvious solution, with food and nutrition security, improved water quality, and increased biodiversity among its many benefits."
"If we use science-based practices, zero-tillage, cover crops and CA, agriculture will be the solution to climate change," he says.
Inexhaustible optimism
Ultimately, Dr. Lal believes, the role of soil is too important to neglect.
"Soil is a living organism: 25 percent of all biodiversity comes from soil cover. Like any living organism, soil, too, needs protection, restoration, and proper care," he believes.
Dr. Lal is incredibly optimistic: he is pleased that the role of soil is increasingly being recognized and applauds international efforts to combat climate change.
"FAO and other organizations have already recognized the important role of soil - the recent International Food Prize awarded to me is ample evidence of this," says Dr Lal.
As the climate is changing rapidly in many parts of the world, FAO is encouraging the adoption of more sustainable and efficient production systems, such as the CA. If smallholder farmers around the world are to achieve food security, soils must play a key role.