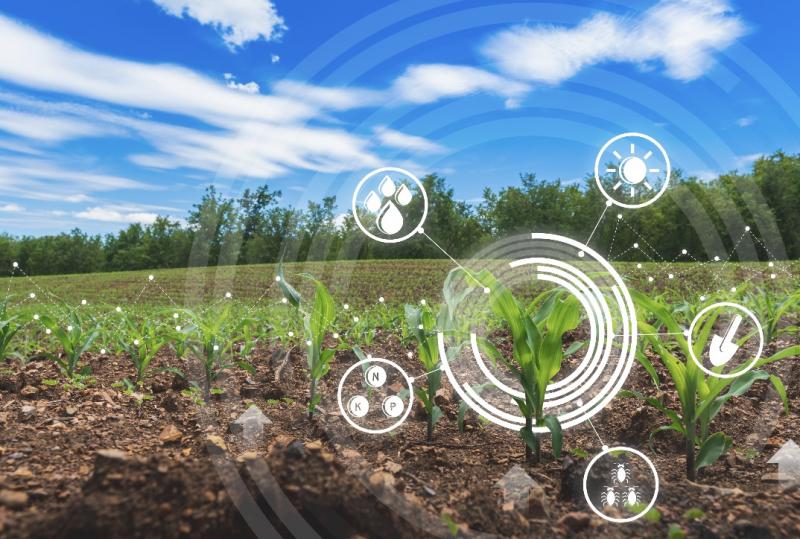 Technology and trends in digitalization in plant growing, as well as peculiarities of their application in Kazakhstan were discussed by industry experts at a thematic webinar held on December 23, organized by the German Agrarian Center in Kazakhstan and the Association for Sustainable Development of Modern Agricultural Methods and Technologies in Kazakhstan (AMTK), World of NAN reports.
At the Zoom conference, representatives of John Deere, BHK Agro AG, Navistar Asia and Claas presented their developments in the field of digitalization. The experts also answered the questions of the webinar participants, which gathered about 100 people.
One of the main speakers at the webinar was Regional Director for Eastern Europe at DLG e.V. Olga Hunger.
Olga Hunger noted that the first attempts to implement digitalization in the CIS territory were made in the late 1960s. In particular, the USSR was developing the Nationwide Automated System of Accounting and Information Processing (OSAS), which was supposed to promptly collect data on the volumes of production, transportation, stock and consumption. This was necessary in order to automatically carry out rescheduling, achieving high efficiency in the use of resources.
The ambitious project was intended to strengthen the economy of the USSR, but it was not meant to be realized due to the unwillingness of the mid-level bureaucracy to work under strict control and based on objective information collected and processed with the help of a computer, as well as the unreadiness of society at large and the imperfection of the technical means existing at the time.
"In my opinion, it was the fear of transparency and traceability of processes that was one of the significant stop-factors in the development of the conceived technology. Because these two parameters mean not only increased efficiency, but also control, which is not to everyone's liking," said Olga Hunger.
"Nevertheless, digitalization has found its way into our economy. It's moving forward unstoppably today, and agriculture is not an exception. Of course, we are still at the beginning of the journey, as such, each new development brings with it not only benefits, but also risks.
For example, not all agricultural producers are interested in the fact that government agencies have access to in-depth control of agricultural enterprises; not all employees within the enterprises are interested in accurate monitoring of the work", - continued Olga Hunger.
At the same time, according to her, the introduction of new technologies leads not only to significant changes in production processes and value chains, but also affects the lives of people in general and their interaction with each other.
"The intensive use of electronic components in agricultural enterprises today makes it possible to collect a wide range of data at different stages of production in order to use them. The analysis and use of data carries great potential, for example, to achieve resource savings in production, simplify documentation and improve decision-making.
An important aspect of digitalization is to connect agriculture with other actors along the entire value chain. Agriculture depends on various partners, both in terms of providing machinery and inputs and in terms of processing and marketing agricultural products. Therefore, the exchange of information in both directions largely determines the success of the enterprise. It optimizes the flow of goods and materials between market participants," said Olga Hunger.
She noted that another advantage of digital tools is that they can be used not only by large companies, but are also available to small and medium-sized businesses. For example, applications for smartphones do not require high investment costs, although they already demonstrate a wide range of applications: plant protection, navigation, fertilizer application, enterprise management.
"The digitalization of agriculture builds on already existing digital components used in production processes that are recognized and accepted today. These include precision agriculture, which includes precision farming and precision livestock production, as well as smart agriculture. These solutions should be seen as important components of digital agriculture," Olga Hunger emphasized.
In particular, the term "precision farming", which is based on field mapping, refers to the use of so-called differentiated farming based on the use of field maps and technologies for the precise application of fertilizers and SPP with appropriate dosage according to the map with an accuracy of 15-20 cm.
In addition, automatic systems for driving and controlling sprayer/spreader sections are used.
"This also includes automatic adaptation of complex harvesting machine functions to changing operating conditions as well as transport and logistics optimization," says Olga Hunger.
At the same time, she says, each technology provider today offers its own data system. Therefore, when using machines from different manufacturers, agricultural enterprises face the problem of linking these data systems with each other and have to combine data by means of individually developed software.
Olga Hunger singled out autonomous steering systems as another promising area for digitalization.
For example, Agco presented at Agritechnica 2019 the first self-propelled agricultural machine in which the steering wheel and steering column have been replaced entirely by joystick control.
"The joystick is included in the left armrest of the operator's seat. It integrates all the functions of the steering column, from the steering wheel to the turn indicators," O. Hunger noted.
According to her, John Deere is actively developing similar technologies today.
The next step - is the transition from autonomous steering systems to the autonomous control systems for agricultural machinery, based on computer vision with the use of artificial intelligence, which allows not only to control the movement of equipment, but also to optimize its route and the actions of working bodies, mounted and trailed implements.
Another, no less interesting area of digitalization today, according to Olga Hunger, is real-time soil analysis using sensors and special devices, an intelligent system of sensor nozzles to reduce the consumption of crop protection products, which allows to distinguish green plants from the soil and apply herbicides with maximum precision, as well as detecting weeds in crops with the help of video cameras or drones.
In addition, the digitalization of agriculture is now actively complemented by advanced technologies such as the Internet of Things (machine-to-machine interaction/telemetry), cloud technologies, big data analysis, artificial intelligence, and robotics with mobile and stationary installations.
Overall, according to Olga Hunger, the digitalization of agriculture is helping farmers today to reduce production costs, increase yields and their income, and conserve natural resources.
Other industry experts also made presentations during the webinar. Thus, Vladlen Valuyev, Territorial Manager for Customer Support of John Deere Agricultural Holdings, spoke about integrated digital solutions for performing work in crop production; Ruslan Cherkushev, Development Manager of BHK Agro, spoke about the new generation of tractors; Abay Kurmangozhin, Head of Digitalization of Navistar Asia, spoke about mapping and using maps in crop production; Leonid Yakovlev, Product Manager for Russia and Eastern Europe of CLAAS, spoke about networking of agricultural machinery.