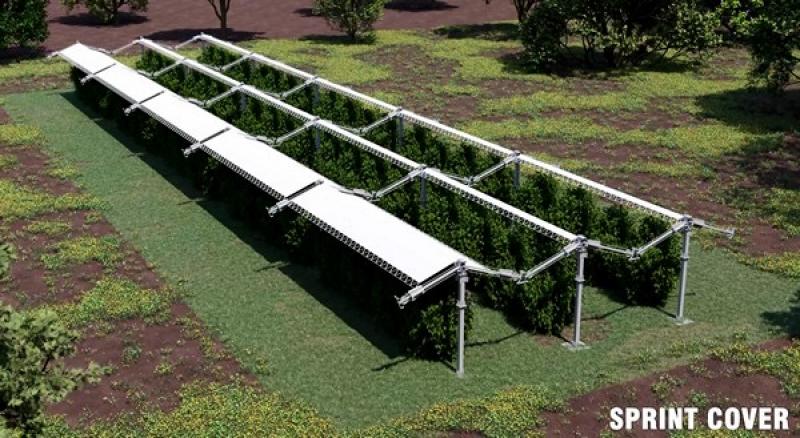 Another international exhibition Macfrut was held in Italy, where modern equipment, technologies and services for the production, conditioning and transportation of fruits and vegetables were presented. The big discovery at the event was the presentation of an automatic umbrella that protects fruits and vegetables from rain, frosts and leaves them open to ripen in favorable weather, reports World of NAN.
The innovation, presented at the exhibition by the company Carpenteria Fossano, is a real automatic "umbrella" that can be opened and closed with the help of an electric motor.
According to the developers, the opening and closing operations take only a few seconds and can be controlled remotely to keep fruits and vegetables closed in case of a storm or frost and open to ripen in the right weather conditions.
"The Sprint Cover active cover system is designed to protect crops from rain and hail, and crops from fungal diseases, rot and cracking. The system of opening and closing works particularly well in cherry orchards, but is also excellent for other types of fruits and vegetables, prone to excessive rainfall, "- said Giancarlo Montorfano, describing the innovative design to the media.
Thus, the ability to automatically regulate the "umbrella" allows you to protect crops only when it is really necessary, so that fruits and vegetables can grow in the open fields as long as possible. The "covers" use an innovative single-row fast winding method: the entire row is driven by a single motor.
"Each individual motor can drive spans of up to 200 meters. The modules can reach up to 18 meters in length, 5 meters in width and 5 meters in height. They are mechanically connected to form a rigid structure without rods. The cover is wind-resistant because the central side is fixed to the winding drum and the outer sides are secured to steel cables with elastics. Even insect nets can be installed on the protective 'umbrella' if necessary," say the developers.