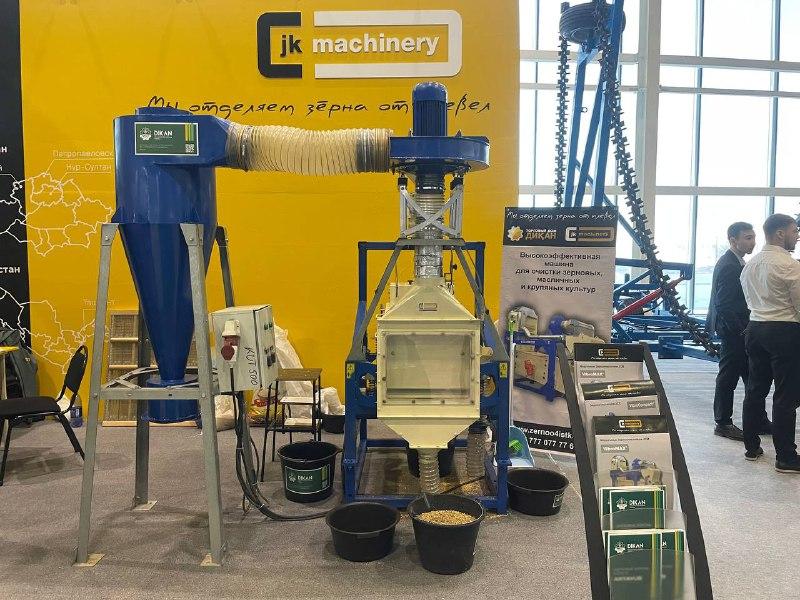 The Czech company "JK Machinery" and its official dealer in Kazakhstan, the trading house of agricultural machinery "DIKAN", have presented modular grain cleaners JCM and JCC at the agricultural exhibition AgriTek FarmTek in Nur-Sultan, reports World of NAN.
JK Machinery, s.r.o. manufactures and supplies grain cleaning machines to agricultural enterprises on three continents. The Czech brand has already earned credibility worldwide and is now spreading rapidly in the market of Kazakhstan. Innovative, and yet as simple in operation and maintenance as possible, machine designs will provide agricultural processors with a quick return on their investment.
"The equipment of JK Machinery allows post-harvest processing of almost all grains, oilseeds, and legumes. Production processes for cleaning, sorting and further processing of agricultural crops are developed in accordance with customer requirements and for non-standard parameters of the incoming raw materials, when the use of other technologies is difficult or impossible", - noted "DIKAN" General Director Kairat Iskakov.
JK Machinery, s.r.o. has 30 years of experience in development and production of special equipment for agricultural and food industry. Today modular grain cleaners of JK Machinery have a lot of advantages: compactness, low power consumption, easy installation, setup and maintenance, easy replacement and cleaning of the screens, noiseless operation as well as high quality and durability.
To ensure the quality of the product, the company offers visitors of AgriTek exhibition a demonstration of the machinery performance on any type of crops, including those brought with them, for the purity of the experiment. The show will be open March 17 and 18. If you did not manage to make it to the exhibition, the DIKAN farming equipment sales house is always open for visitors. The company offices are located in Petropavlovsk, Kostanai, Kokshetau, Kyzylorda and Tashkent.
DIKAN specialists are ready to fulfill any non-standard or innovative requirements of the customer, including complex solutions, such as turnkey construction of plants and seed lines. The company's team is committed to long-term cooperation with its customers. For more information call the Call-center in Kazakhstan at: +7 771 949 99 91, or go to https://jk-machinery.ru/.