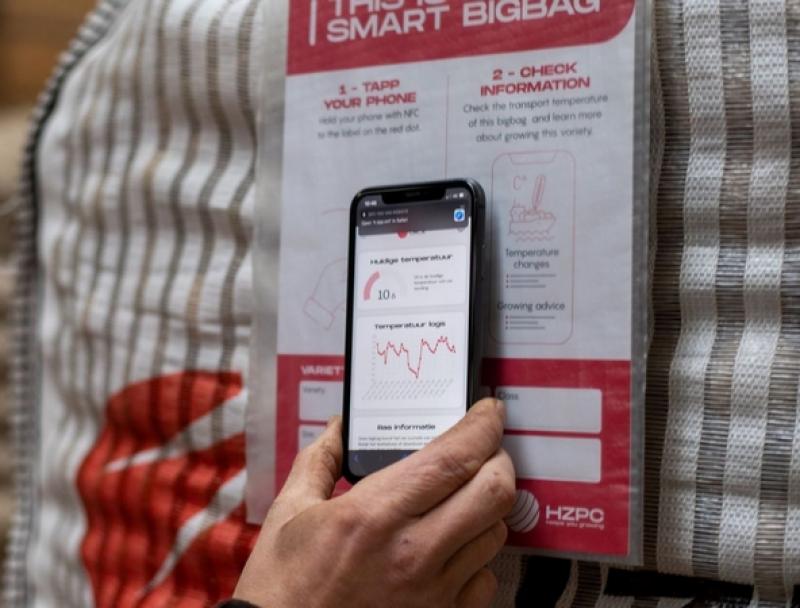 Smart bags for the delivery of seed potatoes have been presented in Spain. The special feature of these bags is that the firm that sends them will be able to control the process of transporting the cargo, observing the temperature regime. Recipients of the goods, thanks to built-in chips, also receive information about transportation and even recommendations from the manufacturer for planting vegetable crops.
Potatoes are delivered to the client in a bag with a special chip reader. When the farmer receives the product, all he has to do is hold his smartphone in front of the chip. With the help of a special program, the information from the grower contained in the chip is sent to the cell phone. The farmer receives tips on how to grow the variety of potatoes sold to the enterpriser. In addition, the chips, equipped with a microsensor, record and show the recipient the temperature of the potatoes during transport.
"In a trial run, we first produced 80 smart bags that were delivered to customers in Spain last season. The experiment was very successful, which is why we decided to scale up. This time more than 1,000 bags of potatoes will go to Bulgaria, France, Italy, Portugal, Serbia, Spain and Turkey. This will allow us to find out if the loading is handled equally well in different parts of the world. We want to especially emphasize that when you read the chip through your smartphone, each buyer receives our cultivation advice in his native language, which is specified when placing the order. In this way, we make the exchange of information as easy as possible," says Hans Landzik, marketing specialist at the manufacturing company.
As the developers point out, the ability to measure the temperature of the goods during transport was very important. Because this information is supposed to help the grower identify any complaints about the quality of the seed potatoes.
"It can take weeks to transport goods. Sometimes there is downtime and temperature fluctuations have a big impact on the quality of seed potatoes. So we wanted to have complete information about the conditions during transportation. In this pilot project we are focusing only on temperature, but in the future we are also thinking about sensors to measure humidity, CO2 and even impact intensity", HZPC specialists share their future plans.