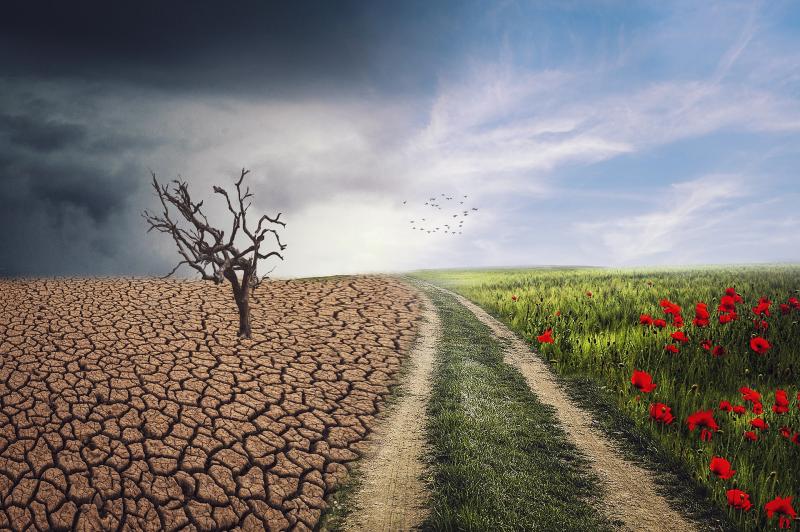 World experts in the field of meteorology predict inevitable global warming. Humans are capable of withstanding a temperature increase of 2-5 degrees. But how these changes will affect the plant world and agriculture, is a completely different question, which the World of NAN reporter will try to answer.
HOW WILL THE CLIMATE CHANGE IN THE COUNTRY?
Kazhydromet stressed that the climate in Kazakhstan is changing towards higher temperatures somewhat faster than the global average. This is influenced by the geographical position of the country.
"Due to heating from the surface of the ocean, there is more evaporation. Water vapor carried from subequatorial regions deep into the continents contains much more heat, thereby heating the middle and high latitudes, where Kazakhstan is located. But this is not the only reason, in addition there are other more complex dynamic, thermodynamic mechanisms," - explained in Kazhydromet
The Hydrometeorological Service's general forecast sounds like a verdict for Kazakh farmers: by 2050 the annual temperature will rise by 2-3 degrees, and by 2090 - by 3-6 degrees. Winters will become warm and humid, and summers will periodically have very high temperatures. Warm periods are also expected to reduce precipitation in some regions, with a decrease in soil moisture of 8-17% by 2050. And in the lakes and rivers the water temperature is predicted to increase, which will have a negative impact on aquatic ecosystems. Deserts in the flat part of Kazakhstan will start to move northward. At the same time, we are already losing forest-steppe ecosystems.
However, this is not all of it! Today, according to meteorologists' data, not only temperature is changing, but also atmospheric circulation. So-called "blocking situations" when a stationary cyclone or anticyclone is established over vast areas are becoming more frequent. For example, in the south and west of Kazakhstan there was a strong heatwave in 2010 and 2014. This year, extreme cold happened in North America. An almost official term "climate swing" has emerged and nearly the entire planet is swinging on it.
Preliminary forecasts of meteorologists are certainly not comforting, but today they give us an understanding in which direction the farmers of Kazakhstan need to move in the long term.
CHANGES IN AGRICULTURE.
Drought in 2021 clearly showed us all the horrors caused by high temperatures. Not only the agricultural sector suffered, but also the livestock sector. Loss of livestock, lack of fodder, low yields, all this can be repeated in the future.
Yerkin Satenbayev, head of science at the National Agrarian Research and Education Center, also noted that the changes in climate will have a negative impact on the country's agriculture.
"Out of 5 agro-climatic zones, only 4 will remain. The shift of warm zones will go from south to north, and favorable climatic conditions in the north of Kazakhstan will be shifted to the north of Russia," the scientist explained.
Also according to his data the temperature increase will have a negative impact on vegetation in Kazakhstan. According to studies of the Institute of Biology, some plant species in Kazakhstan today are already beginning to disappear. According to their calculations up to 70% of plants will die out in the country.
"We will have problems with cereals and fodder crops because of the rise in temperature, also there will be problems with industrial crops - it's cotton and sugar beet, because they are moisture-loving, and we will have a shortage of water," said Yerkin Nyshanbayevich.
Optimal temperature range for growth, development and maturation of spring crops varies between 10-26 Celsius. If the weather service forecasts come true, then the Kazakh farmers will have to forget about high-quality wheat.
"Exceeding the above norm hinders the development of plants during flowering and can cause problems with the formation of grain in the ear. Also during the milk ripening period, the intense evaporation of moisture in the absence of precipitation can cause the formation of puny grain in the ear due to the lack of moisture in the plants, "- explained in detail the meteorologists.
Along with the heat in the future, farmers may have water problems, which is why the scientist from NASEC recommended farmers to develop a water-saving system.
DLG together with World of NAN will hold a roundtable on "Water Management in Agriculture - Best Practices of Kazakh and Foreign Farmers" on 9 February 2022 at 15:00-17:00 (Nur-Sultan time). During the event, foreign farmers will share their water management practices. If you are not registered yet, please click REGISTRATION. Link to the event and program: HERE.
WHAT CAN WE DO?
Since the beginning of the industrial age, human activity has caused the climate to change in a warming direction. Yet the world's meteorologists claim that human influence on the climate far exceeds the impact resulting from known changes in natural processes, such as changes in the sun and volcanic eruptions.
It turns out that it is human activity that affects the climate. But can we change it in the opposite direction? To do this, we need to stop all transport on the planet and stop burning fuel. Naturally, this scenario is not acceptable to anyone. The world community is still trying to make changes by imposing some restrictions, but we cannot say that they will be able to stop the process or turn it in the opposite direction.
It is noteworthy that the agricultural sector is not only a victim of global warming, but also its culprit. Agriculture accounts for approximately 30 percent of the total greenhouse gas emissions from chemical fertilizers, pesticides and animal waste.
The human population is steadily growing, and with it the demand for products and, consequently, agricultural production. Therefore, we will not be able to stop the agricultural sector, but farmers can change the production process.
Rejection of pesticides and chemical fertilizers will not only reduce greenhouse gas emissions into the atmosphere, but it will also keep the soil fertile for many years. Given future climate change, this approach can be doubly beneficial.
Livestock farmers can also do their part by recycling livestock waste into organic fertilizer. This way they will not only get rid of waste, but also help growers with organic fertilizers.
It would seem that everything is so simple. However, Kazakh farmers are in no hurry to introduce these methods, because it is expensive, difficult and does not bring proper profits. However, we will definitely come to this, the important thing is not to be too late, right?