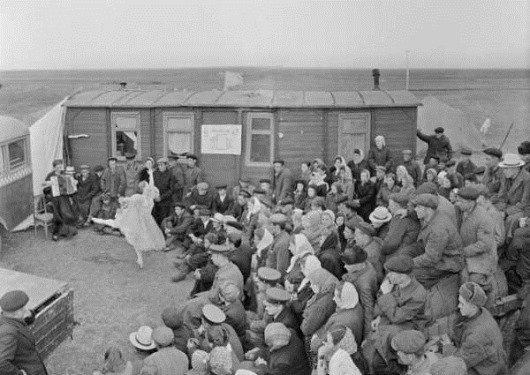 The land of Kostanay meets the pioneer virgin landers.
On 28 February 1954, the first trains with volunteer virgin landers arrived at Kostanay station. Born in Penza region Gennady Sokolov did not think for a long time whether or not to go to Kazakhstan to conquer virgin and fallow lands. The 18-year-old for almost immediately decided that he would be among the pioneers. In last February day of far 1954 the young man set foot on Kostanay land. And stayed here for the rest of his life. While travelling the young man remembered one story, when he stopped in Perm region. His friend lived here, and Gennady decided to visit him, and if possible, travel together to Kazakhstan to conquer virgin land. However, the problem was that his friend lived in a remote village. There were no buses there. Neither could he hitch a ride there. The guy hasn't thought up anything else besides using a bicycle. Everything was fine until he got on the ice, through the seemingly frozen river. As soon as he reached the middle the ice cracked under the tires, a moment later Gennady was in the water. He miraculously made it ashore. He had to go back. And at the station, he met his friend. They came to Kostanay in a few days. He settled with his sister, who also responded to the party's call and came to conquer the virgin land. A few months later, he was given a room in a dormitory. Work had to be done almost in the bare field. There was nothing. All the necessary infrastructure: roads, houses, hospitals, schools, everything appeared literally before my eyes, recalls the pioneer virgin lander. Here Gennady worked as a car mechanic, then became a machine-operator and an engineer. Here he also met his other half, with whom he had lived for half a century. Thus the virgin land became the meaning of his life.
Tselina meets the son of Ukraine.
On 23 March 1959 Ivan Osipchuk, a native of Ukraine, came to Kazakhstan for virgin lands. The young man had just paid his debt to his homeland and did not know where he would work yet. Ivan was at a crossroads. And then he heard an announcement about people being sent to the virgin lands in Kazakhstan. He did not know exactly where to go. He didn't know what virgin land was, either. And what awaits them in the unknown Kazakh steppe is a mystery, shrouded in darkness. But despite everything, Ivan Dmitrievich decided that he had to go. The pioneer virgin lander more than half a century later remembered that it was the endless steppes of Kazakhstan that made a special impression on him. In their native Ukraine, their village was surrounded by forests and gardens, and here not a single tree all the way to the horizon. At first, he lived with a friend in a pit-house, and when two years later he created his own family, he got a home. He worked as a mechanic-combiner. For a year Ivan Dmitrievich worked at the state farm "Sokolovsky", and in 1961 he was transferred to "Krasnopartizansky". Thus the Ukrainian guy connected his life with far Kazakhstan.
Girls conquer the virgin land.
Not only representatives of the strong half responded to the call of the Motherland. Among the conquerors of the virgin lands were girls and women. And of course, they had a particularly difficult time. Especially those who were born in the city, who did not know what it means to live in a drafty hut. Tamara Netesova graduated with honors from the Voronezh Cooperative Technical School in 1956. Like thousands of her peers, she went to the virgin land. It was not an order from above, just nineteen-year-old girl decided for herself that she could not stay away from the mass impetus. Tamara Netesova came to Northern Kazakhstan. And she remembered her first day on the virgin land well, because she had to spend the night in the so-called red corner of the local consumer union. Despite her young age, the girl was appointed senior inspector in Bogolyubovo. During the day they worked in production, and at night they had to work on the thrashing floor, the harvest was rich, so there were not enough working hands on drying grain. Tamara Vasilyevna answers the question "how did you cope with difficulties" without hesitation: "What is there to do but cope, our youth helped us and the feeling of belonging to something great". Indeed, what they accomplished can be called nothing but a heroic deed. These young men and women were not frightened by the unknown, unorganized life, exhausting work, they were just doing their duty - the duty of the patriot of the Motherland.